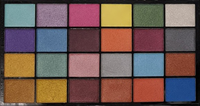 Petal Crafts Dazzler Palette
$37.95
Set of 24 colors. Dazzle dusts give sheen finish when applied to royal icing flowers, fondant, and gum paste flowers. This palette of compressed petal dust "wafers" provides a wide assortment of colors in one convenient and easy-to-use package. Use in dry form by using a brush over the wafer and applying to gum paste or fondant. Or wet the tip of a brush with  clear edible alcohol (e.g., vodka) and dip into the wafer for painting or highlighting. Refer to product picture for colors. Non-toxic.
Ingredients: Calcium Sulfate, Modified Cornstarch, Glycerine, Propylparaben, Propylene Glycol, Propylene Oxide Phosphoric Acid, Sodium Benzoate, Dextrose, FD&C Yellow#5&6, FD&C Blue#1&2 Lake, FD&C Red#40 Lake, Pearl Mica, Carmine, Xanthan Gum & Soy Lecithin. 

MADE IN USA US & FOREIGN PATENTS PENDING 

NOTE: Color shades may vary due to reproduction limitations and your monitor's color settings.  We have taken all necessary precautions to package the product carefully.  However, due to the softness of the wafers, breakage or cracking may occur during shipping; this does not affect the quality of the dust or its fitness for use.