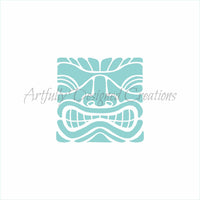 Hawaiian Tiki Face Stencil
$2.75
Hawaiian Tiki Face Stencil
Hawaiian Tiki Face Stencil - Overall stencil size is approximately 5.5" x 5.5". Stencil design is approximately 2.3" x 2.4". Blue sections in image are the open sections. Stencils are 7 mil Food Grade plastic, washable and reusable. To clean your stencil simply run your stencil under warm water to rinse away any air brush color or icing. Pat dry between paper towels or a clean cloth.
Can be used with royal icing, air brush, fondant, butter-cream, chocolate or any spreadable material.
Stencils can be used for many craft projects.
Tiki face stencil
I had been looking for tikis...and this is one is not cartoonish. I hope you make more faces in The future!