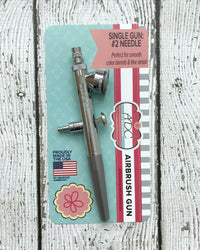 ADC Airbrush #2 Gun
$95.00
ADC Airbrush #2 Gun
The ADC Airbrush #2 Gun is a professional single action gun perfect for decorating cookies. It's simple to use because of it's precision trigger and nozzle assembly.
Artfully Designed Creations is proud to offer our signature airbrush made in the USA exclusively for ADC by Paasche Airbrush! Paasche, an innovator in airbrush manufacturing in the United States for over 100 years, has created a high quality airbrush with a thicker gauge metal for a sturdier product while still being lightweight and portable.
It has a snap-button style trigger piston and integrated auxiliary lever giving our new airbrush gun a low-frustration build that allows pieces to easily fit together after cleaning.
The color cup is capped to avoid spills, and our airbrush has a smooth airflow that is excellent at handling sheens!
You can find the complete ADC Airbrush kit here.